Over Dimensional Vehicle / CDWC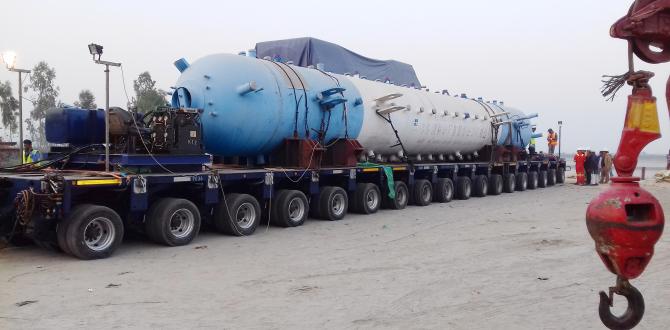 Over Dimensional Vehicle / Cargo
Over-dimensional Vehicle / cargos (ODC) are goods that exceed the specified dimensions in terms of length, width, and height. These goods are typically too heavy to be transported by standard transportation methods, and shifting them from one place to another requires special skills. Many companies specialise in this type of transport, but not all of them are renowned for providing this service. Regardless of the type of over dimensional consignments, a reputable company can provide safe transportation for this cargo type.
ODC goods are often protected by the government, which outlines specific rules and safety norms for their transport. Often, these rules include fines and penalties, which are meant to discourage companies from taking unnecessary risks with such important goods. Companies must abide by these rules and risk monetary penalties if they breach them. These laws are an important part of keeping the public safe. ODC transportation is one of the best ways to ensure that your goods reach their destination without any issues.
ODC Transportation Process
The ODC Cargo Transportation Vehicle is a strong vehicle designed for carrying bulky goods. It can travel virtually anywhere. However, it is not readily available in India due to the lack of traders who can afford it and don't give it the importance it deserves. However, there is evidence that accidents have increased as a result of these trucks. A route survey is an important part of the ODC transportation process. The route survey identifies roadblocks that may hamper heavy haulage of oversize loads. ODC Cargo ensures surface road transportation for the goods.
Moving over-dimensional cargo requires the expertise of a renowned logistics company like Equity Logistics. A professional service provider can handle these types of freight with better accuracy and control than a novice. However, this type of transportation is complicated and requires specialised equipment, so it is therefore essential to hire a professional service provider. You should consider a number of factors before choosing a company to ship your goods. The company you choose should be reputable, efficient, and provide a high level of service.
Expertise With Zielen Logistics
If you are choosing Equity Logistics for your ODC cargo transport, then it is the best choice with 10 years of experience in this field. Having this much experience means that we have been operating in the field for a while and have a strong reputation among our customers. A reputable logistics provider will also have years of experience and will have a large network of satisfied customers. So, make sure to look for a long-established, reputable company with decades of experience in this industry.
When determining the ODC for your transportation needs, you should look at the ODC meaning in the context of your business. ODC stands for Odd Dimensional Cargo. There are two primary types of ODC: expedited shipping, and outsourced freight. ODC companies are often located in other countries and do not require detailed transportation documents. An e-way bill, on the other hand, only requires the minimum distance.
Time Tracking
Easy
Payment
100% Safe delivery